Leiolopisma mauritiana Günther, 1877
Mauritius giant skink, Mauritian giant skink
Taxonomy & Nomenclature
Synonym/s: Didosaurus mauritianus Günther, 1877; Dido–saurus mauritianus Günther, 1877
Conservation Status
Extinct
Last record: c. 1600
IUCN RedList status: Extinct
Distribution
Mauritius, Mascarene Islands
Biology & Ecology
Hypodigm
Holotype: BMNH 1965.95
Media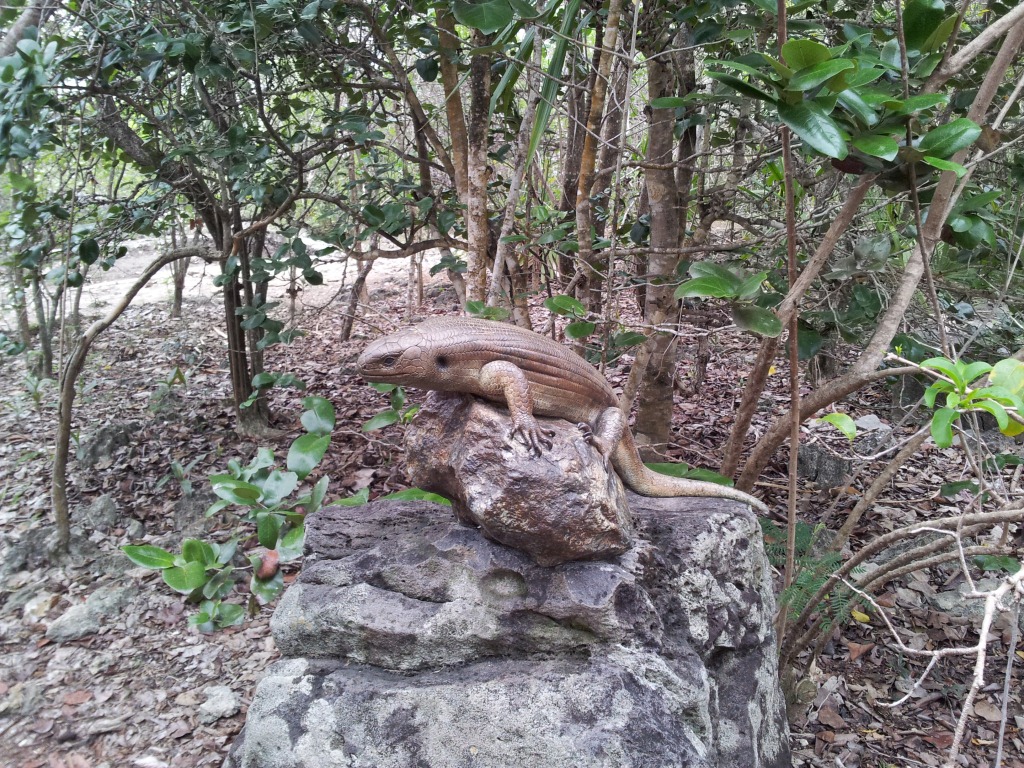 Above: memorial model - Ile aux Aigrettes. Photo by Abu Shawka in 2012. Source: Wikimedia Commons.
References
Original scientific description:
Günther, A. (1877). Notice of two extinct lizards, formerly inhabiting the Mascarene Islands. Zool. J. Linnean Soc. 13(69): 322-327. [Abstract]
Other references:
Arnold, E. N. (1980). Recently extinct reptile populations from Mauritius and Réunion, Indian Ocean. Journal of Zoology 191(1): 33-47. [Abstract]
Austin, J. J. and Arnold, E. N. (2006). Using ancient and recent DNA to explore relationships of extinct and endangered Leiolopisma skinks (Reptilia: Scincidae) in the Mascarene islands. Molecular Phylogenetics and Evolution 39(2): 503-511. [Abstract]
Bour, R., Frétey, T. and Cheke, A.S. 2014. Philibert Marragon (1749–1826) and the Mémoire sur l'Isle de Rodrigue (1795). Bibliotheca Herpetologica 10(2): 5-32.
Cheke, Anthony S. and Hume, Julian Pender. (2008). Lost land of the Dodo. London: T & AD Poyser. 464 pp.
Cole, N. 2021. Leiolopisma mauritiana. The IUCN Red List of Threatened Species 2021: e.T11410A166839636. https://dx.doi.org/10.2305/IUCN.UK.2021-2.RLTS.T11410A166839636.en. Accessed on 12 June 2022.
Day, David. (1981). The Doomsday Book of Animals: A Natural History of Vanished Species. New York, N.Y.: The Viking Press.
Greer, Alan E. (1976). On the evolution of the giant Cape Verde scincid lizard Macroscincus coctei. Journal of Natural History 10(6): 691-712.
Griffiths, C.J., Hansen, D.M., Jones, C.G., Zuël, N. and Harris, S. 2011. Resurrecting extinct interactions with extant substitutes. Current Biology 21: 762-765.
Heinen, J.H., van Loon, E.E., Hansen, D.M. and Kissling, W.D. 2018. Extinction-driven changes in frugivore communities on oceanic islands. Ecography 41: 1245-1255.
Regalado, Pedro Galán. (2015). Los Anfibios y Reptiles Extinguidos: Herpetofauna Desaparecida Desde el Año 1500. Monografías de la Universidade da Coruña 155: 1-509.
Robert Hoffstetter: Sur les Scincidae fossiles : II - Formes subfossiles de l'Ile Maurice. Bull. Mus. nat. Hist. nat. Paris ;séries 2; 17(1), 1945: 80-86
Vinson, Jean and Vinson, Jean-Michel. (1969). The saurian fauna of the Mascarene Islands. Bull. Mauritius Inst. 6: 203-320.
Robert Hoffstetter: Les reptiles subfossiles de l'île Maurice: Les Scincidae, Vol 1, Annales de Paléontologie 35, 1949:45-72.
Tirvengadum, D. D. and Bour, R. (1985). Checklist of the herpetofauna of the Mascarene Islands. Atoll. Res. Bull. 292: 49-60.
Wood, J.R., Alcover, J.A., Blackburn, T.M., Bover, P., Duncan, R.P., Hume, J.P., Louys, J., Meijer, H.J., Rando, J.C. and Wilmshurst, J.M. 2017. Island extinctions: processes, patterns, and potential for ecosystem restoration. Environmental Conservation 44(4): 348-358.
World Conservation Monitoring Centre. (1996). Leiolopisma mauritiana. In: IUCN 2011. IUCN Red List of Threatened Species. Version 2011.1. (http://www.iucnredlist.org). Downloaded on 29 June 2011.
https://extinctanimals.proboards.com/thread/10067/leiolopisma-mauritiana
http://reptile-database.reptarium.cz/species?genus=Leiolopisma&species=mauritiana