Balantiocheilos ambusticauda Ng & Kottelat, 2007
Siamese bala-shak, Burnt-tailed barb, Burnt tail fish
Taxonomy & Nomenclature
Conservation Status
Missing
Last record: 1974
IUCN status: Critically Endangered (Possibly Extinct)
Distribution
Thailand (=Siam)
Though described from Thailand and the Mekong Basin (Cambodia and Lao PDR), records from the latter seem to be erroneous, or misidentifications of B. melanopterus (Ng & Kottelat, 2007; Vidthayanon, 2011), the only other member in the genus, and with which B. ambusticauda was long considered to be conspecific.
Biology & Ecology
Hypodigm
Holotype: MHNG 2689.096 (sex unspecified)
Type locality: "Thailand: Nakhon Sawan province, Bung Borapet."
Paratypes:
MHNG 2158.45 (3)
ANSP 87831 (3)
MNHN A6333 (1)
MNHN 1847 (5)
Media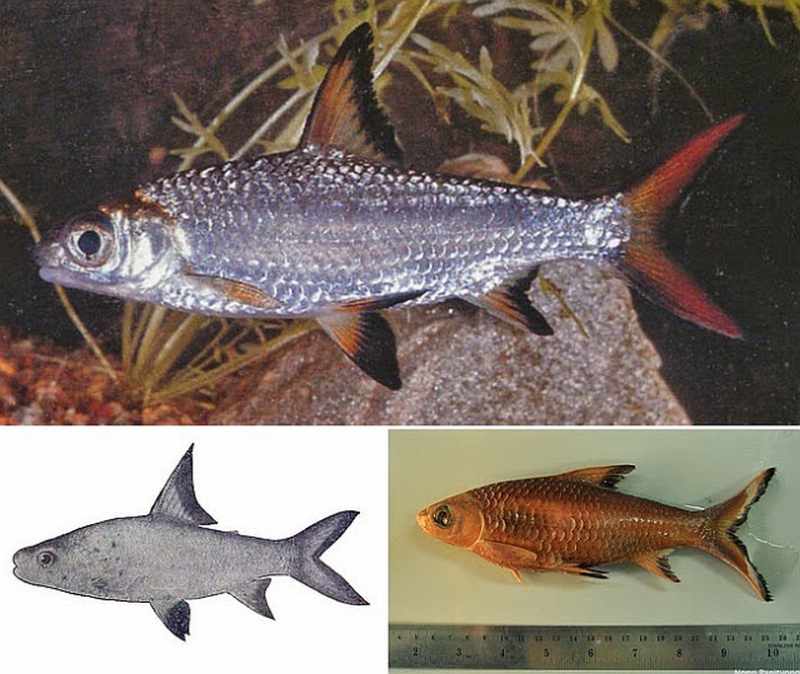 Source: https://tropical-fish-keeping.com/tag/balantiocheilos-ambusticauda
References
Original scientific description:
Ng, Heok Hee and Kottelat, Maurice. (2007). Balantiocheilos ambusticauda, a new and possibly extinct species of cyprinid fish from Indochina (Cypriniformes: Cyprinidae). Zootaxa 1463: 13-20. https://doi.org/10.11646/zootaxa.1463.1.2
Other references:
Panitwong, N. (2010). The untold story of the Siamese Bala Shark. Aqua Magazine (in Thai) 52(June).
Vidthayanon, C. (2011). Balantiocheilos ambusticauda. The IUCN Red List of Threatened Species 2011: e.T180665A7649599. http://dx.doi.org/10.2305/IUCN.UK.2011-1.RLTS.T180665A7649599.en. Downloaded on 14 June 2017.
http://www.fishbase.org/summary/63409
http://extinctanimals.proboards.com/thread/1676/balantiocheilos-ambusticauda-siamese-bala-shark