Thismia kobensis Suetsugu, 2018
Taxonomy & Nomenclature
Conservation Status
Last record: 10 June 1992 (Suetsugu et al., 2018)
Since rediscovered (Suetsugu et al., 2023)
This species was only known from a single specimen, and its entire known habitat was destroyed in 1999 (Suetsugu et al., 2018) leading to the belief that it was extinct. But it was rediscovered 30km away (Suetsugu et al., 2023).
Distribution
Kobe, Hyōgo Prefecture, Honshū, Japan
Biology & Ecology
Hypodigm
Media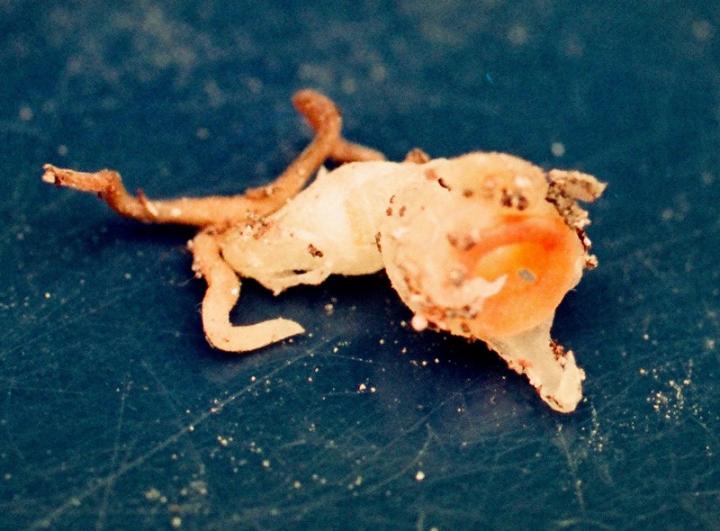 Above: the holotype of Thismia kobensis on the day it was collected (10 June 1992). Published in the original scientific description (Suetsugu et al., 2018). Source: Wikimedia Commons.
References
Original scientific description:
Suetsugu, Kenji, Nakanishi, Osamu, Kobayashi, Tomiki and Kurosaki, Nobuhira. (2018). Thismia kobensis (Burmanniaceae), a new and presumably extinct species from Hyogo Prefecture, Japan. Phytotaxa 369(2): 121-125.
Other references:
Garrett, Natalie, Viruel, Juan, Klimpert, Nathaniel, Gomez, Marybel Soto, Lam, Vivienne K. Y., Merckx, Vincent S. F. T. and Graham, Sean W. (2023). Plastid phylogenomics and molecular evolution of Thismiaceae (Dioscoreales). American Journal of Botany 110(4): e16141. https://doi.org/10.1002/ajb2.16141
Merckx, Vincent, Schols, Peter, Kamer, Hiltje Maas-van de, Maas, Paul, Huysmans, Suzy and Smets, Erik. (2006). Phylogeny and evolution of Burmanniaceae (Dioscoreales) based on nuclear and mitochondrial data. American Journal of Botany 93(11): 1684-1698. https://doi.org/10.3732/ajb.93.11.1684
Suetsugu, Kenji, Yamana, Kohei and Okada, Hidehito. (2023). Rediscovery of the presumably extinct fairy lantern Thismia kobensis (Thismiaceae) in Hyogo Prefecture, Japan, with discussions on its taxonomy, evolutionary history, and conservation. Phytotaxa 585(2): 102-112. https://doi.org/10.11646/phytotaxa.585.2.2
https://earther.gizmodo.com/mysterious-new-plant-discovered-in-museum-collection-is-1829393663?IR=T
https://vanishingflora.proboards.com/thread/4036/thismia-kobensis
https://www.washingtonpost.com/science/2023/03/04/rare-japanese-flower-rediscovered/