Pteropus subniger Kerr, 1792:91
Lesser Mascarene flying(-)fox, Small Mauritian flying(-)fox, Dark flying(-)fox, Rougette
Taxonomy & Nomenclature
A list of synonyms can be found here: http://www.departments.bucknell.edu/biology/resources/msw3/browse.asp?id=13800371
Conservation Status
Extinct
Last record: Mauritius (1859); Réunion (1862)
IUCN RedList status: Extinct
Distribution
Mauritius & Réunion, Mascarene Islands
Biology & Ecology
Hypodigm
Media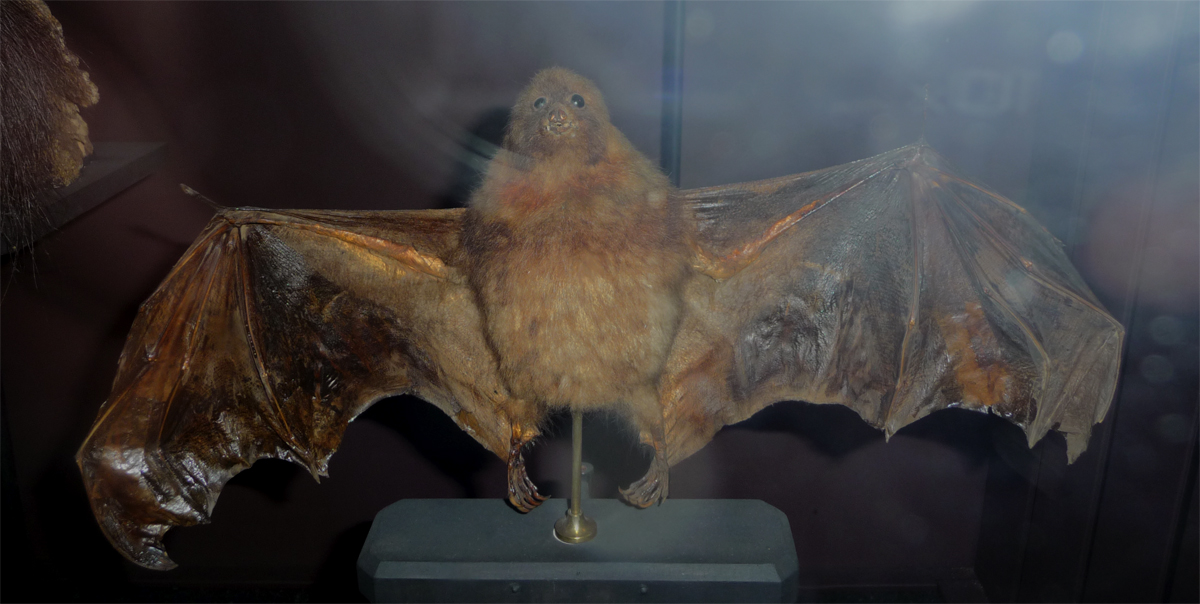 Above: photograph taken by 'citron'. Released under CC BY-SA 3.0. Available from Wikipedia: https://commons.wikimedia.org/wiki/File:Pteropus_subniger.jpg
References
Original scientific description:
Kerr, Robert. (1792). The Animal Kingdom: London: J. Murray & R. Faulder.

Other references:
Bergmans, W. (1990). Taxonomy and biogeography of African fruit bats (Mammalia: Megachiroptera). 3. The genera Scotonycteris Matschie, 1894, Casinycteris Thomas, 1910, Pteropus Brisson, 1762, and Eidolon Rafinesque, 1815. Beaufortia, 40(7):111-177.
Cheke, A. S. and Dahl, J. F. (1981). The status of bats on Western Indian Ocean islands, with special reference to Pteropus. Mammalia 45(2): 205-238.
Cheke, A. S. and Hume, Julian Pender. (2008). Lost Land of the Dodo: an Ecological History of Mauritius, Réunion & Rodrigues. T & AD Poyser (UK) and Yale University Press (USA).
La Nux, J.B. de, 1772. (Letter on Rousettes and Rougettes). Published, apparently with only a few minor excisions, on pp. 253-262 of Buffon, 1776 (q.v.).
Maas, P.H.J. (2011). Lesser Mascarene Flying Fox - Pteropus subniger. In: TSEW (2013). The Sixth Extinction Website. (http://www.petermaas.nl/extinct). Downloaded on 22 December 2013.
Mickleburgh, S., Hutson, A.M., Bergmans, W. & Howell, K. (2008). Pteropus subniger. In: IUCN 2011. IUCN Red List of Threatened Species. Version 2011.1. (http://www.iucnredlist.org). Downloaded on 19 October 2011.
Mickleburgh, Simon P., Hutson, Anthony M. and Racey, Paul A. (1992). Old World fruit bats. An action plan for their conservation. Gland, Switzerland: IUCN. viii + 252 pp.
Wilson, D.E. & Reeder, D.M. 2005 Mammal species of the world: a taxonomic and geographic reference. Third edition. Baltimore, MD: John Hopkins University Press.
http://extinctanimals.proboards.com/thread/6527/pteropus-subniger-dark-flying-fox
Acknowledgements
The photograph of the preserved specimen has been released under the [url=http://en.wikipedia.org/wiki/GNU_Free_Documentation_License]GNU Free Documentation License[/url] by the photographer: citron. Thanks go to the author for their kind permission to place this image in the public domain.