Plesiothele fentoni Hickman, 1936
Lake Fenton trapdoor spider
Taxonomy & Nomenclature
Synonym/s: Hexathele fentoni Hickman, 1936
The genus Plesiothele was erected for Hexathele fentoni by (Raven, 1978).
Conservation Status
Last record: 1932?
Rediscovery date disputed: 1987 (TSMS, 2013); June 1995 (Turner, 1995); 1996 (Doran, 1996)
Distribution
southern Tasmania, Australia
Biology & Ecology
Hypodigm
Media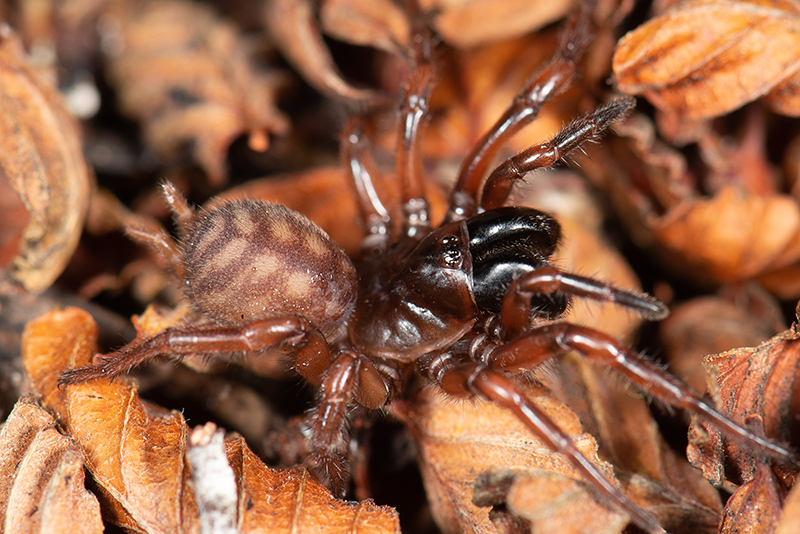 Above: photograph of the Lake Fenton trapdoor spider (Plesiothele fentoni), taken by Marshal Hedin on 8 February 2017 at 12:25PM. Reproduced under CC BY-SA 2.0 license. Source: Wikimedia Commons.
Another photo of a live Lake Fenton trapdoor spider (Plesiothele fentoni) can be seen in (Gardner, 2022).
References
Original scientific description:
Hickman, Vernon Victor. (1936). A new mygalomorph spider belonging to the genus Hexathele Ausserer. Papers and Proceedings of the Royal Society of Tasmania 1935: 131-137.
Other references:
Bryant, Sally L. and Jackson, J. (1999). Tasmania's Threatened Fauna Handbook: What, Where and How to Protect Tasmania's Threatened Animals. Threatened Species Unit, DPIWE, Hobart. [p. 303-306]
Doran, Niall. (2002). Lots of invertebrate news! Invertebrata: http://www.qvmag.tas.gov.au/zoology/invertebrata/onlinearchive/onlinetext/inv22-2-02.html
Gardner, Angela. (2022). Web of mystery continues to unravel. Forest Practices News 15(2): 19.
Raven, Robert J. (1978). Systematics of the spider subfamily Hexathelinae (Dipluridae: Mygalomorphae: Arachnida). Australian Journal of Zoology Supplementary Series 26(65): 1-75. https://doi.org/10.1071/AJZS065
Raven, Robert J. (1980). The evolution and biogeography of the mygalomorph spider family Hexathelidae (Araneae, Chelicerata). Journal of Arachnology 8: 251-266.
Taylor, Robert J. and Bryant, Sally L. (1997). Compilation of a list of threatened invertebrates: the Tasmanian experience. Memoirs of the Museum of Victoria 56(2): 605-609. https://doi.org/10.24199/j.mmv.1997.56.57
Threatened Species & Marine Section. (2013). Listing Statement for Plesiothele fentoni (Lake Fenton Trapdoor Spider). Department of Primary Industries, Parks, Water and Environment, Tasmania. [automatic download]
Turner, Elizabeth. (1995). Rediscovery of the Lake Fenton Funnelweb. Invertebrata: http://www.qvmag.tas.gov.au/zoology/invertebrata/printarchive/printtext/inv5items.html#5turner
http://extinctanimals.proboards.com/thread/15466/plesiothele-fentoni-fenton-trapdoor-spider
https://nre.tas.gov.au/Documents/Plesiothele%20fentoni%20listing%20statement.pdf
https://www.fpa.tas.gov.au/__data/assets/pdf_file/0019/3448/Threatened_fauna_range_boundaries_and_habitat_descriptions_June_2022.pdf