Prasmiola unica Forster, 1954:177
Taxonomy & Nomenclature
Conservation Status
Rediscovered
The species was only known from the holotype collected on 19 February 1942 by Dr. Raymond Forster, after which Dr. Forster conducted several searches for the species but was unsuccessful (Dr. Phil Sirvid, pers. comm. 15 October 2018). On 11 July 2020 Uwe Schneehagen (username 'schneehagen') uploaded a photographic observation of an opilione (harvestmen) to iNaturalist.org taken the previous day at Wainuiomata, Lower Hutt about 3-4km from the type locality. It was subsequently deemed a Research Grade (i.e. expert confirmed) observation of Prasmiola unica (https://www.inaturalist.org/taxa/395571-Prasmiola-unica). A second possible photographic observation of the species was made at the type locality (Days Bay) on 22 August 2021 by Jean Roger (username 'jeanro') (https://www.inaturalist.org/observations/74822761).
Distribution
Days Bay, Wellington, North Island, New Zealand
Biology & Ecology
Hypodigm
Only known from the holotype at the Te Papa Tongarewa Museum of New Zealand. Accession number: AH.000081
Media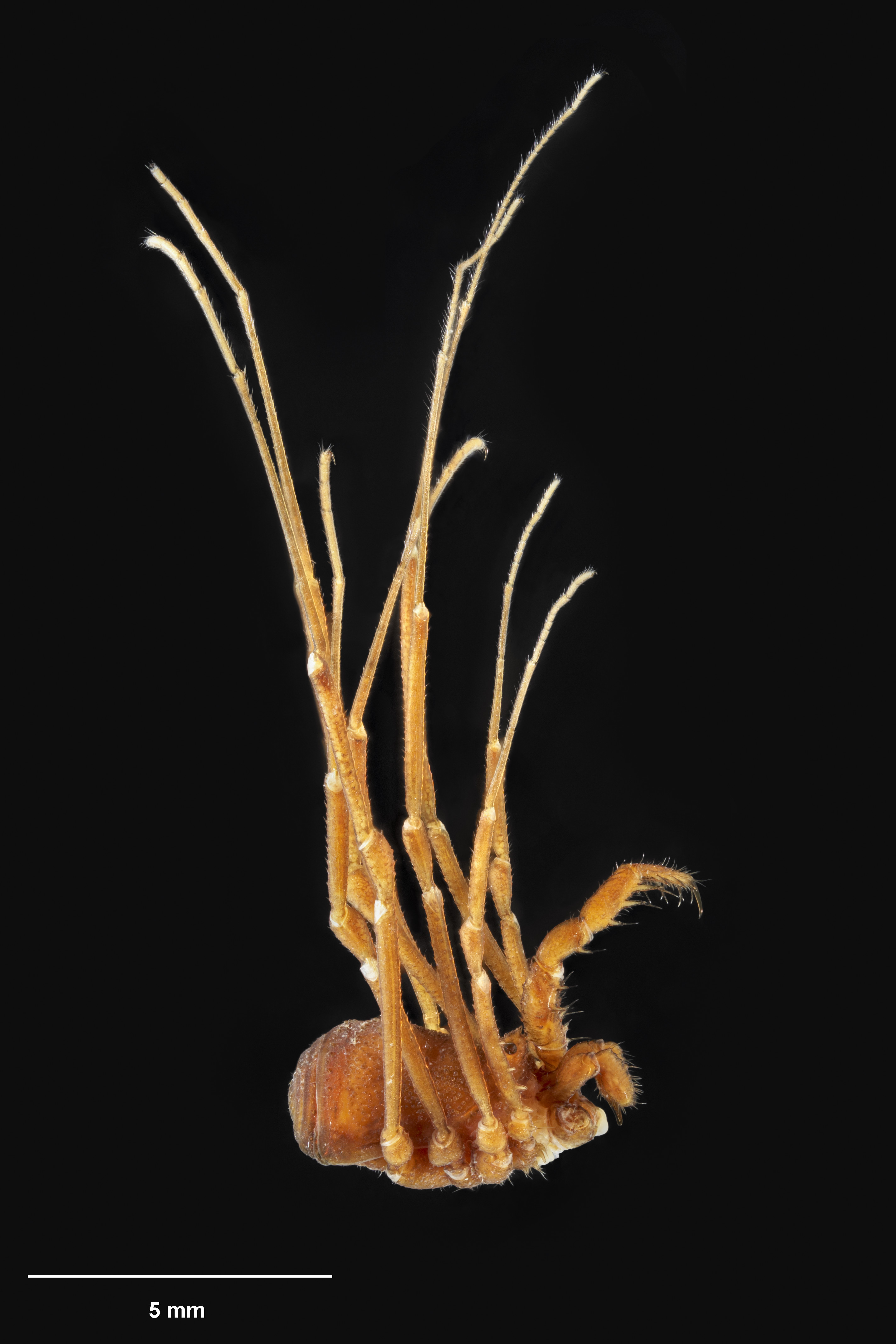 Above: The holotype of Prasmiola unica Forster, 1954, collected 19 February 1942, Days Bay, Wellington., New Zealand. Source: CC BY 4.0. Te Papa (AH.000081) (https://collections.tepapa.govt.nz/object/127717)
References
Original scientific description:
Forster, R. R. (1954). The New Zealand harvestmen (sub-order Laniatores). Canterbury Museum Bulletin 2: 1‑329.
Other references:
Buckley, Thomas R., Palma, Ricardo L., Johns, Peter Malcolm, Gleeson, Dianne M., Heath, A. C. G., Hitchmough, R. A. and Stringer, I. A. N. (2012). The conservation status of small or less well known groups of New Zealand terrestrial invertebrates. New Zealand Entomologist 35(2): 137-143. https://doi.org/10.1080/00779962.2012.686319 [Supplemental Material]
Forster, R. R. (1963). A Key to the New Zealand Harvestmen—Part 2. Tuatara 11(1): 28-40.
Hitchmough, R., Bull, L. and Cromarty, P. (compilers). (2007). New Zealand Threat Classification System lists—2005. Department of Conservation, Wellington. 194 pp.
Kury, Adriano B., Mendes, Amanda Cruz. and Souza, Daniele R. (2014). World Checklist of Opiliones species (Arachnida). Part 1: Laniatores – Travunioidea and Triaenonychoidea. Biodiversity Data Journal 2: e4094. https://doi.org/10.3897/BDJ.2.e4094 [Supplementary material]