Stellaria elatinoides Hook.f. (year?)
Taxonomy & Nomenclature
Conservation Status
Extinct (Humphreys et al., 2019)
Last record: 1940's (de Lange, 2014)
IUCN RedList status: Extinct
Distribution
New Zealand
Biology & Ecology
Hypodigm
Museum of New Zealand Te Papa Tongarewa:
SP013592 (collected November 1890)
SP050576 (collected October 1921)
SP050577 (collected November 1890)
SP050580 (collected November 1885)
Media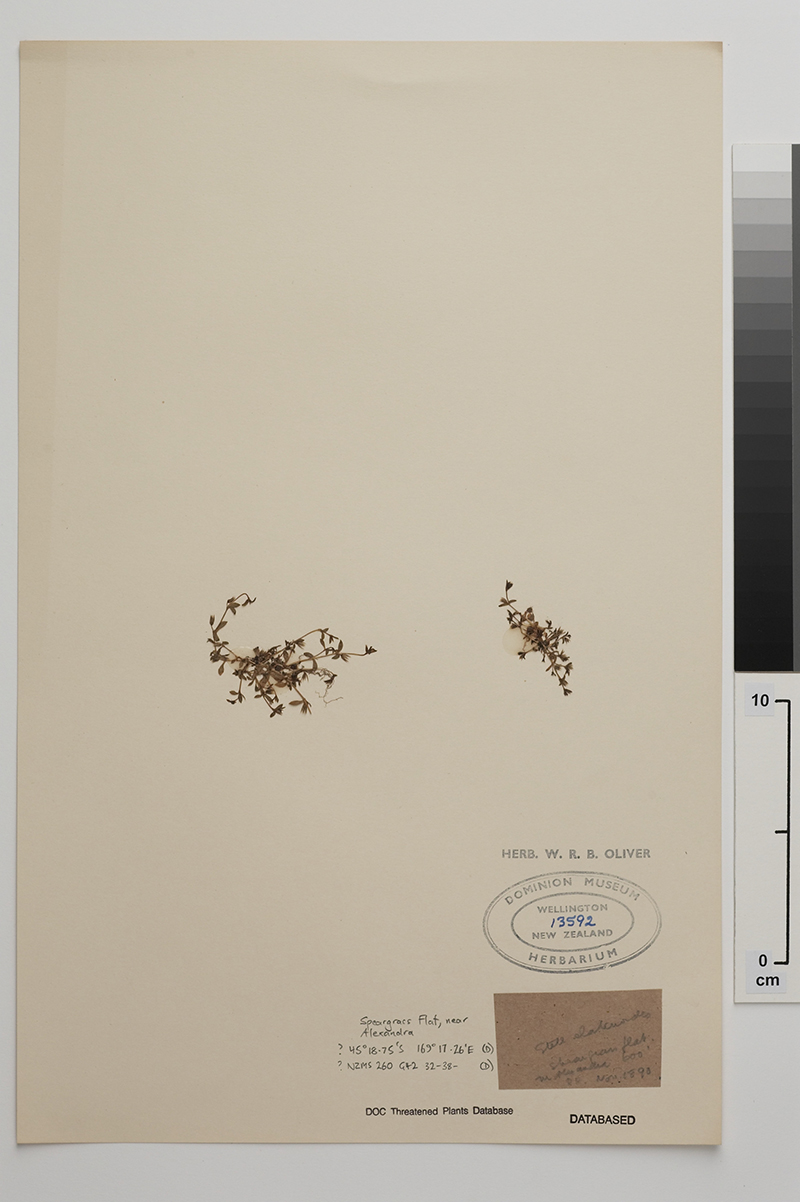 Above: Stellaria elatinoides Hook.f., collected November 1890, Speargrass flat, near Alexandra, New Zealand. Acquisition history unknown. CC BY 4.0. Te Papa (SP013592)
References
de Lange, P. (2014). Stellaria elatinoides. The IUCN Red List of Threatened Species 2014: e.T62798337A62798340. https://dx.doi.org/10.2305/IUCN.UK.2014-2.RLTS.T62798337A62798340.en. Accessed on 28 June 2022.
de Lange, P.J.; Rolfe, J.R.; Champion, P.D.; Courtney, S.P.; Heenan, P.B.; Barkla, J.W.; Cameron, E.K.; Norton, D.A.; Hitchmough, R.A. (2013). Conservation status of New Zealand indigenous vascular plants, 2012. New Zealand Threat Classification Series 3. Department of Conservation, Wellington. 70 pp.
Heenan, Peter B. (2019). Taxonomic notes on the New Zealand flora: the status of the extinct herb Stellaria elatinoides (Caryophyllaceae) and recognition of Stellaria multiflora subsp. multiflora from New Zealand. New Zealand Journal of Botany 57(4): 309-315. [Abstract]
Humphreys, Aelys M. et al. (2019). Global dataset shows geography and life form predict modern plant extinction and rediscovery. Nature Ecology & Evolution 3: 1043-1047. [Abstract] [Supplementary Dataset 1]
Le Roux, Johannes J., Hui, C., Castillo, M. L., Iriondo, J. M., Keet, J.-H., Khapugin, A. A., Médail, F., Rejmánek, M., Theron, G. Yannelli, F. A. and Hirsch, H. (2019). Recent Anthropogenic Plant Extinctions Differ in Biodiversity Hotspots and Coldspots. Current Biology 29(17): 2912-2918.e2. https://doi.org/10.1016/j.cub.2019.07.063
Norton, D.A. (1991). Trilepidea adamsii: an orbituary for a species. Conservation biology 5: 52-57.
Walter, Kerry S. and Gillett, Harriet J. (eds.). (1998). 1997 IUCN Red List of Threatened Plants. Compiled by the World Conservation Monitoring Centre. Gland, Switzerland & Cambridge, UK: IUCN – The World Conservation Union. lxiv + 862 pp.
Wilton, A.D.; Schönberger, I.; Boardman, K.F.; Breitwieser, I.; Cochrane, M.; Dawson, M.I.; de Lange, P.J.; de Pauw, B.; Fife, A.J.; Ford, K.A.; Gibb, E.S.; Glenny, D.S.; Heenan, P.B.; Korver, M.A.; Novis, P.M.; Redmond, D.N.; Smissen, R.D.; Tawiri, K. (2016). Checklist of the New Zealand Flora – Seed Plants. Lincoln, Manaaki Whenua-Landcare Research. http://dx.doi.org/10.7931/P1PP42