Tropidophora carinata Born, 1780
Taxonomy & Nomenclature
Conservation Status
Missing
IUCN RedList status: Data Deficient
Distribution
Mauritius & Réunion, Mascarene Islands
Biology & Ecology
Hypodigm
Media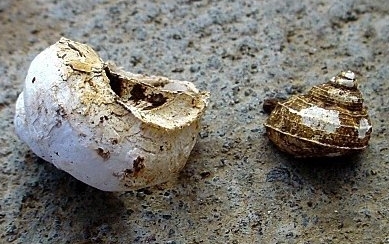 Above: Photograph taken by J. J. Argoud. CC 3.0 Licence. Source: Wikimedia Commons.
References
Cowie, Robert H., Régnier, Claire, Fontaine, Benoît, and Bouchet, Philippe. (2017). Measuring the Sixth Extinction: what do mollusks tell us? The Nautilus 131(1): 3-41.
Emberton, K. C. (1996). Tropidophora carinata. In: IUCN 2012. IUCN Red List of Threatened Species. Version 2012.2. (http://www.iucnredlist.org). Downloaded on 10 November 2012.
Hume, Julian Pender. (2013). A synopsis of the pre-human avifauna of the Mascarene Islands, pp. 195-237. In: Göhlich, U.B. & Kroh, A. (eds.). Proceedings of the 8th International Meeting of the Society of Avian Paleontology and Evolution. Naturhistorisches Museum, Wien.
Hume JP, Walters M. 2012. Extinct birds. London: A & C Black (Poyser Imprint). [Griffiths therein]
Régnier, Claire, Fontaine, Benoît and Bouchet, Philippe. (2009). Not Knowing, Not Recording, Not Listing: Numerous Unnoticed Mollusk Extinctions. Conservation Biology 23(5): 1214-1221.
http://blog.ncbnaturalis.nl/wp-content/uploads/2011/06/alan-grihault-2006-history-of-mas-vnaturalis-1.pdf