Ovis canadensis auduboni Merriam, 1901
Badlands bighorn (sheep), Audubon's bighorn (sheep)
Taxonomy & Nomenclature
Conservation Status
Invalid (synonym)
Last record: early 1900's; 1910 (Goodwin & Goodwin, 1973)
Distribution
The Dakotas and Nebraska, USA
Biology & Ecology
Hypodigm
Media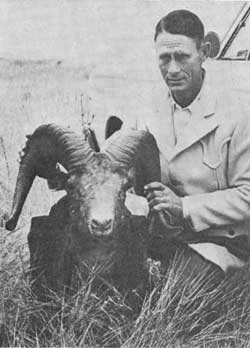 Above: "Jim Hart from South Dakota, displays an Audubon Bighorn Sheep (Ovis canadensis auduboni) shot on Sheep Mountain in 1903 by Charley Jones". Source: Wikimedia Commons.
References
Day, David. (1981). The Doomsday Book of Animals: A Natural History of Vanished Species. New York, N.Y.: The Viking Press.
French, Brett. (2004). The sheep that will not die: Clinging to the myth of Audubon's bighorn. Montana Outdoors 2004(November-December): [pagination?].
Goodwin, Harry A. and Goodwin, J. M. (1973). List of mammals which have become extinct or are possibly extinct since 1600. Int. Union Conserv. Nat. Occas. Pap. 8: 1-20.
Shackleton, David M. (1997). Wild sheep and goats and their relatives : status survey and conservation action plan for caprinae. IUCN.
Wehausen, J. D. and Ramey, R. R. (2000). Cranial morphometric and evolutionary relationships in the northern range of Ovis canadensis. Journal of Mammalogy 81: 145-161.
<< Back to the Cetartiodactyla (Even-toed Ungulates) database