Bison bonasus caucasicus Turkin & Satunin, 1904
Caucasian wisent
Taxonomy & Nomenclature
Synonym/s: Bison bonasus caucasius Turkin and Satunin, 1904
Conservation Status
Extinct
Last record: 1925 (Goodwin & Goodwin, 1973); 1927?
IUCN RedList status: Extinct
Distribution
Caucasian Mountains
Biology & Ecology
Hypodigm
Media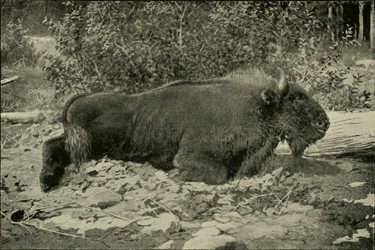 Above: an image of a killed Caucasian Bison from E. Demidoff's book 'Hunting Trips in The Caucasus' (1889). Source: Wikimedia Commons.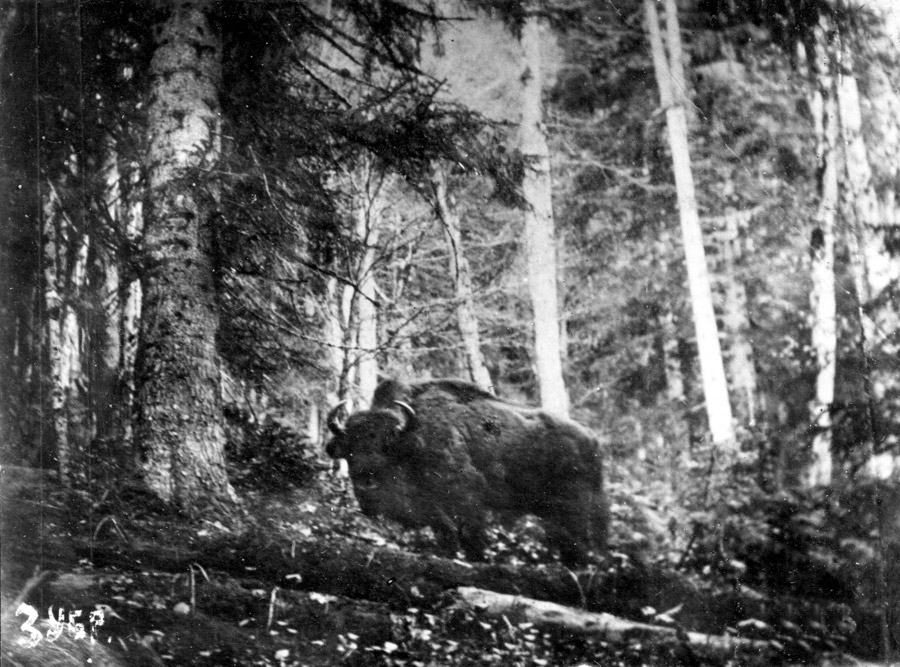 Above: a possibly Caucasian wisent. Source: Wikimedia Commons.
References
Day, David. (1981). The Doomsday Book of Animals: A Natural History of Vanished Species. New York, N.Y.: The Viking Press.
Demidoff, E. (1889). Hunting Trips in The Caucasus.
Goodwin, Harry A. and Goodwin, J. M. (1973). List of mammals which have become extinct or are possibly extinct since 1600. Int. Union Conserv. Nat. Occas. Pap. 8: 1-20.
Heptner, V. G., Nasimovic, A. A. and Bannikov, A. G. (1966). Die Saugeetiere der Sowietunion. 1. Paarhufer and Unpaarhufer. G. Fisher Verlag. Jena, 939 pp.
Olech, W. (IUCN SSC Bison Specialist Group). (2008). Bison bonasus. In: IUCN 2013. IUCN Red List of Threatened Species. Version 2013.1. (http://www.iucnredlist.org). Downloaded on 30 July 2013.
Skinner, Morris F. and Kaisen Ove C. (1947). The fossil bison of Alaska and preliminary revision of the genus. Bulletin of the American Museum of Natural History 89(3): 123-256, text figures 1-5, plates 8-26, tables 1-25, maps 1-3.
Soubrier, Julien et al. (2016). Early cave art and ancient DNA record the origin of European bison. Nature Communications 7: 13158.
Tokarska, M. et al. (2011). Genetic status of the European bison Bison bonasus after extinction in the wild and subsequent recovery. Mammal Review 41(2): 151-162. [Abstract]
Tokarska, M., Bunevich, A. N., Demontis, D., Sipko, T., Perzanowski, K., Baryshnikov, G., Kowalczyk, R., Voitukhovskaya, Y., Wójcik, J. M., Marczuk, B., Ruczyńska, I. and Pertoldi, C. (2015), Genes of the extinct Caucasian bison still roam the Białowieża Forest and are the source of genetic discrepances between Polish and Belarusian populations of the European bison, Bison bonasus. Biological Journal of the Linnean Society. doi: 10.1111/bij.12470 [Abstract]
Vereshchagin, Nikolai Kuzmich. (1967). The Mammals of the Caucasus: A History of the Evolution of the Fauna. Israel Program for Scientific Translations, Jerusalem. 816 pp. (Translation by Vereshchagin N. K. 1959. Mlekopitayushchie Kavkaza: Istoriya formirovaniya fauny. Moscow-Leningrad. pp. 3-703).
<< Back to the Cetartiodactyla (Even-toed Ungulates) database