Pseudophilautus hypomelas Günther, 1876
Webless shrub frog, Patala rahith apnduru madiya
Taxonomy & Nomenclature
Synonym/s: Philautus hypomelas Günther, 1876; Ixalus hypomelas Günther, 1876
Conservation Status
Last record: 1876 or before
Rediscovered in ?
IUCN RedList status: Extinct
Distribution
Sri Lanka
Biology & Ecology
Hypodigm
Media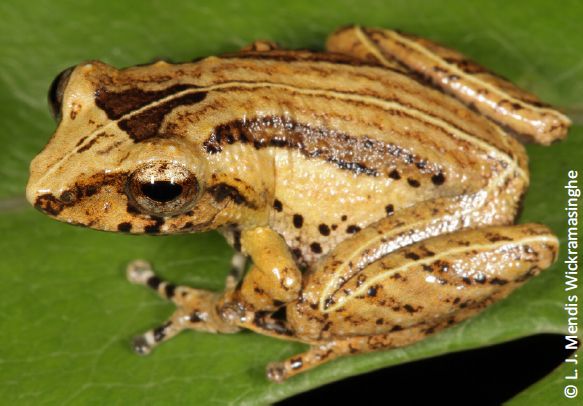 Above: photo by L.J. Mendis Wickramasinghe. Published in Wickramasinghe et al. (2013). Copyrighted photo released under (CC BY 4.0).
References
Original scientific description:
Günther, A. (1876). Notes on the mode of propagation of some Ceylonese tree frogs with descriptions of two new species. Ann. Mag. Nat. Hist., ser. 4, 17: 377-380.
Other references:
Dutta, Sushil K. and Manamendra-Arachchi, Kelum. (1996). The amphibian fauna of Sri Lanka. Colombo: Wildlife Heritage Trust of Sri Lanka. [pp. 145-147]
Kirtisinghe, P. (1957). The Amphibia of Ceylon. Colombo, Ceylon: Self published.
Manamendra-Arachchi, Kelum and Meegaskumbura, Madhava. (2012). The Taxonomy and Conservation Status of Amphibians in Sri Lanka, pp. 88-98. In: The National Red List 2012 of Sri Lanka: Conservation Status of the Fauna and Flora. Weerakoon, D. K. and Wijesundara, S. (eds.). Ministry of Environment, Colombo, Sri Lanka. viii + 476 pp.
Manamendra-Arachchi, Kelum and Pethiyagoda, R. (2005). The Sri Lankan shrub-frogs of the genus Philautus Laurent, 1943 (Ranidae, Rhacophorinae), with description of 27 new species. Raffles Bulletin of Zoology Supplement [volume?]: 163-303.
Kelum Manamendra-Arachchi, Anslem de Silva. (2004). Pseudophilautus hypomelas. In: IUCN 2012. IUCN Red List of Threatened Species. Version 2012.2. (http://www.iucnredlist.org). Downloaded on 17 February 2013.
Regalado, Pedro Galán. (2015). Los Anfibios y Reptiles Extinguidos: Herpetofauna Desaparecida Desde el Año 1500. Monografías de la Universidade da Coruña 155: 1-509.
Wickramasinghe, L.J.M., D.R. Vidanapathirana, M.D.G. Rajeev & N. Wickramasinghe (2013). Rediscovery of Pseudophilautus hypomelas (Günther, 1876) (Amphibia: Anura: Rhacophoridae) from the Peak Wilderness, Sri Lanka, a species thought to be extinct! Journal of Threatened Taxa 5(17): 5181-5193.