Malacorhynchus scarletti Olson, 1977:132
New Zealand pink-eared duck, Scarlett's duck
Taxonomy & Nomenclature
Conservation Status
Extinct
Last record: Holocene
Distribution
Chatham Island & South Island, New Zealand
Biology & Ecology
Hypodigm
Holotype: CM Av 5855 ("Anterior portion of premaxilla")
Type locality: "Pyramid Valley Swamp, near Waikari, North Canterbury, South Island, NZ." (Olson, 1977).
Paratype: CM Av 9959 ("Posterior portion of right mandibular ramus")
Media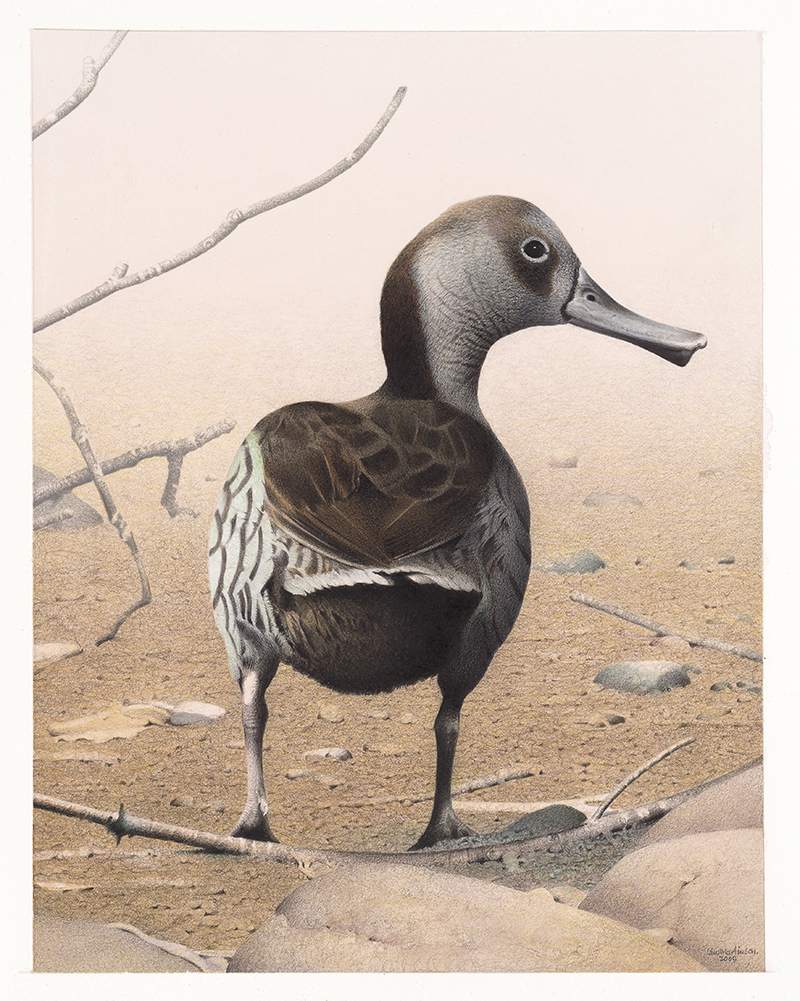 Above: Scarlett's Duck. Malacorhynchos scarletti. From the series: Extinct Birds of New Zealand., 2005, Masterton, by Paul Martinson. Purchased 2006. © Te Papa. CC BY-NC-ND 4.0. Te Papa (2006-0010-1/29)
References
Original scientific description:
Olson, Storrs L. (1977). Notes on subfossil Anatidae from New Zealand, including a new species of pink-eared duck Malacorhynchus. Emu 77: 132-135.
Other references:
Holdaway, Richard N., Worthy, Trevor H. and Tennyson, Alan J. D. (2001). A working list of breeding bird species of the New Zealand region at first human contact. New Zealand Journal of Zoology 28: 119-187.
Robertson, H. A., Baird, K. A., Elliott, G. P., Hitchmough, R. A., McArthur, N. J., Makan, T. D., Miskelly, Colin M., O'Donnell, C. F. J., Sagar, P. M., Scofield, R. P., Taylor, G. A. and Michel, P. (2021). Conservation status of birds in Aotearoa New Zealand, 2021. New Zealand Threat Classification Series 36. Department of Conservation, Wellington. 43 pp.
Hugh Robertson, John Dowding, Graeme Elliott, Rod Hitchmough, Colin Miskelly, Colin O'Donnell, Ralph Powlesland, Paul Sagar, Paul Scofield, Graeme Taylor. (2013). Conservation status of New Zealand birds, 2012. New Zealand Threat Classification Series 4. 22 pp.
Worthy, Trevor H. (1995). Description of some post-cranial bones of Malacorhynchus scarletti, a large extinct pink-eared duck from New Zealand. Emu 95(1): 13-22. [Abstract]
Worthy, Trevor H. (1998). A remarkable fossil and archaeological avifauna from Marfells Beach, Lake Grassmere, South Island, New Zealand. Records of the Canterbury Museum 12(1): 79-176.
Worthy, Trevor H. (2004). The Holocene fossil waterfowl fauna of Lake Poukawa, North Island, New Zealand. Tuhinga 15: 77-120.
Worthy, T. H. and Gill, B. J. (2002). New distributional records of the extinct New Zealand duck Malacorhynchus scarletti (Anatidae). Records of the Auckland Museum 39: 49-52.
Worthy, Trevor H. and Holdaway, Richard N. (2002). The Lost World of the Moa. Bloomington: Indiana University Press.
Young, H. Glyn, Tonge, Simon J. and Hume, Julian Pender. (1996). Review of Holocene wildfowl extinctions. Wildfowl 47: 167-181.