Cnemiornis gracilis Forbes, 1892:187
North Island goose
Taxonomy & Nomenclature
Synonym/s: Cnemiornis septentrionalis Oliver, 1955:602
C. minor is also used to refer to this species according to (Fuller, 1988:46), although it is considered a junior synonym of C. calcitrans by (Hume & Walters, 2012:43).
Conservation Status
Extinct
Distribution
North Island, New Zealand
Biology & Ecology
Hypodigm
Media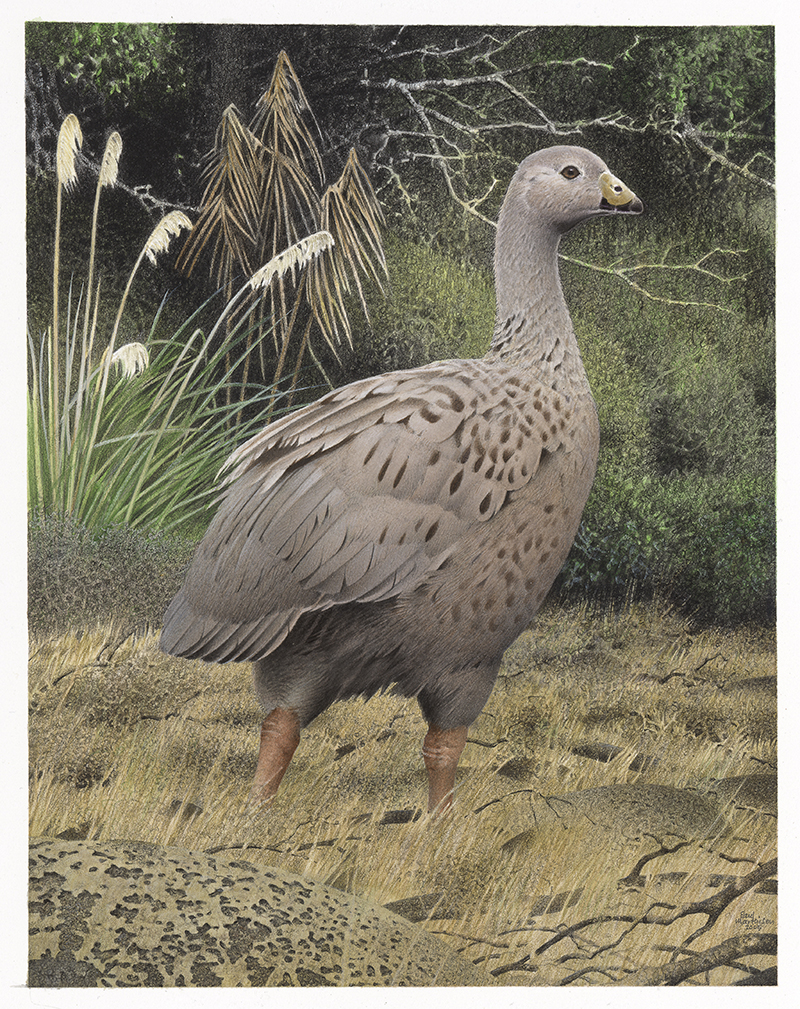 Above: North Island Goose. Cnemiornis gracilis. From the series: Extinct Birds of New Zealand., 2005, Masterton, by Paul Martinson. Purchased 2006. © Te Papa. CC BY-NC-ND 4.0. Te Papa (2006-0010-1/28)
References
Original scientific description:
Forbes, H. O. (1892). Preliminary notice of additions to the extinct avifauna of New Zealand. Transactions and Proceedings of the New Zealand Institute 24: 185-189.
Other references:
Dawson, E. W. (1958). Re-discoveries of the New Zealand subfossil birds named by H. O. Forbes. Ibis 100: 232-237. [Summary]
Fuller, Errol. (1988). Extinct Birds. New York: Facts on File Publications. 256 pp.
Gill, B. J., Grant-Mackie, J. A. and Hayes, B. (2005). A Middle Pleistocene goose bone (Anserinae: Cnemiornis) from Hawke's Bay, New Zealand. Records of the Auckland Museum 42: 75-79.
Gill, Brian and Martinson, Paul. (1991). New Zealand's extinct birds. New Zealand: Random Century.
Holdaway, Richard N., Worthy, Trevor H. and Tennyson, Alan J. D. (2001). A working list of breeding bird species of the New Zealand region at first human contact. New Zealand Journal of Zoology 28: 119-187.
Hume, Julian Pender and Walters, Michael. (2012). Extinct Birds. London: T & AD Poyser.
Medway, David G. (1971). Sub-fossil avian remains from the Awakino - Mahoenui area. Notornis 18(3): 218-219.
Oliver, W. R. B. (1955). New Zealand Birds. Wellington: A. H. and A. W. Reed.
Hugh Robertson, John Dowding, Graeme Elliott, Rod Hitchmough, Colin Miskelly, Colin O'Donnell, Ralph Powlesland, Paul Sagar, Paul Scofield, Graeme Taylor. (2013). Conservation status of New Zealand birds, 2012. New Zealand Threat Classification Series 4. 22 pp.
Watanabe, Junya. (2017). Quantitative discrimination of flightlessness in fossil Anatidae from skeletal proportions. The Auk 134(3): 672-695.
Williams, G. R. (1962). Extinction and the land and freshwater-inhabiting birds of New Zealand. Notornis 10(1): 15-32.
Worthy, Trevor H. and Holdaway, Richard N. (2000). Terrestrial fossil vertebrate faunas from inland Hawke's Bay, North Island, New Zealand. Part 1. Records of the Canterbury Museum 14: 89-154.
Worthy, Trevor H. and Holdaway, Richard N. (2002). The Lost World of the Moa. Bloomington: Indiana University Press.
Worthy, T. H.; Holdaway, R. N.; Sorenson, M. D., and Cooper, A. C. (1997). Description of the first complete skeleton of the extinct New Zealand goose Cnemiornis culcitruns (Aves: Anatidae), and a reassessment of the relationships of Cnemiornis. J. Zool., Lond. 243: 695-723.
Young, H. Glyn, Tonge, Simon J. and Hume, Julian Pender. (1996). Review of Holocene wildfowl extinctions. Wildfowl 47: 167-181.