Anas oustaleti Salvadori, 1894:1
Mariana mallard, Marianas Island duck, Oustalet's gray duck, Ladrone Island duck
Taxonomy & Nomenclature
Synonym/s: Anas (platyrhynchos) oustaletti Salvadori, 1894:1
A natural hybrid, and hence not a valid species (Jouanin, 1962:264).
Conservation Status
Invalid (hybrid)
Last record: 1945? 1981 (Suckling et al. 2004)
Distribution
Marianas Islands
Biology & Ecology
Hypodigm
Media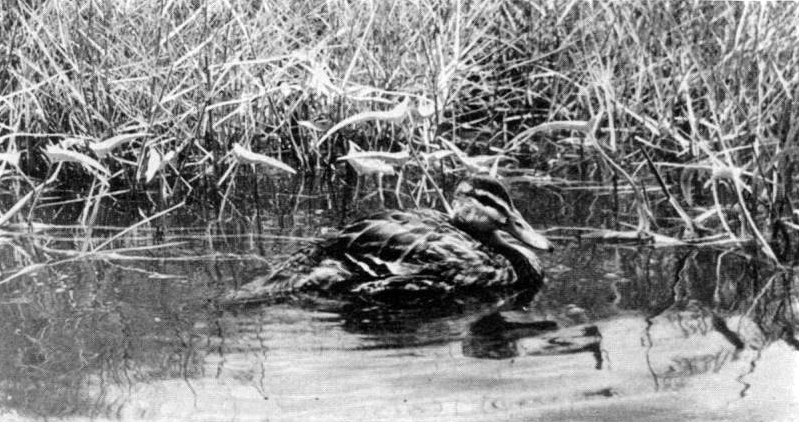 Above: "a sick individual in freshwater lake on Tinitian Island". Published in Marshall (1949). Source: Wikimedia Commons.
Above: the last male Mariana mallard by Eugene Kridler (year unknown). Source: Wikimedia Commons.
References
Original scientific description:
Salvadori, T. (1894). Remarks on the Ducks of the genera Anas and Nyroca. Bulletin of the British Ornithologists' Club 20: 1-2.
Other references:
Baker, Rollin H. (1948). Report on collections of birds made by United States naval medical research unit no. 2 in the Pacific war area. Smithsonian Miscellaneous Collections 107(15): 1-74, 6 pl.
Berlioz, J. (1929). Catalogue systématique des types de la collection d'Oiseaux du Muséum (I. Ratites – II. Palmipèdes). Bulletin du Muséum (Paris) (2) 1: 58-69.
Carboneras C., 1992: Family Anatidae (Ducks, Geese and Swans). – In: del Hoyo J, Elliott A. & Sargatal J. (eds.): Handbook of the birds of the world. Vol.1: 536-60. Barcelona: Lynx Edicions.
Jouanin, Christian. (1962). Inventaire des oiseaux éteints ou en voie d'extinction conservés au Muséum de Paris. Terre et Vie 109: 275-301.
Marshall, J. T. jnr. (1949). The endemic avifauna of Saipan, Tinian, Guam and Palau. Condor 51(5): 200-221.
Moran, J. V. (1946). Birds on Saipan and Tinian. Bull. Massachusetts Audubon Soc. 33(8): 261-262.
Reichel, J. D. and Lemke, T. O. (1994) Ecology and extinction of the Mariana Mallard. J. Wildl. Manage. 58(2): 199-205. [Abstract]
Salvadori, T. (1894). Anas oustaleti and Nyroca innotata, spp. nn., i, ii . – Bulletin of the British Ornithologists' Club 4(20): 1-2.
Suckling, Kieran, Slack, Rhiwena and Nowicki, Brian. (2004). Extinct and the Endangered Species Act. Centre For Biological Diversity. 63 pp.
USFWS. (2004). Removing the Mariana Mallard and the Guam broadbill from the federal list of endangered and threatened Wildlife. United State Fish and Wildlife Service, February 23, 2004, 69 FR 8116.
Voisin, C. and Voisin, J.-F. (2016). List of type specimens of birds in the collections of the Muséum national d'Histoire naturelle (Paris, France). 27. Phoenicopteridae and Anatidae. Journal of the National Museum (Prague), Natural History Series 185: 65-75.
Yamashina, Y. (1948) Notes on the Marianas mallard. Pac. Sci. 2: 121-124.
Young, H. Glyn, Tonge, Simon J. and Hume, Julian Pender. (1996). Review of Holocene wildfowl extinctions. Wildfowl 47: 167-181.