Anas chathamica Oliver, 1955
Chatham Island duck, Chatham duck
Taxonomy & Nomenclature
Synonym/s: Pachyanas chathamica Oliver, 1955; Diaphorapteryx sp. Milne-Edwards, 1896:126
Placement within the genus Anas follows (Mitchell et al., 2014).
Conservation Status
Extinct
Last record: c.1500 AD
Distribution
Chatham Islands, New Zealand
Biology & Ecology
Hypodigm
Media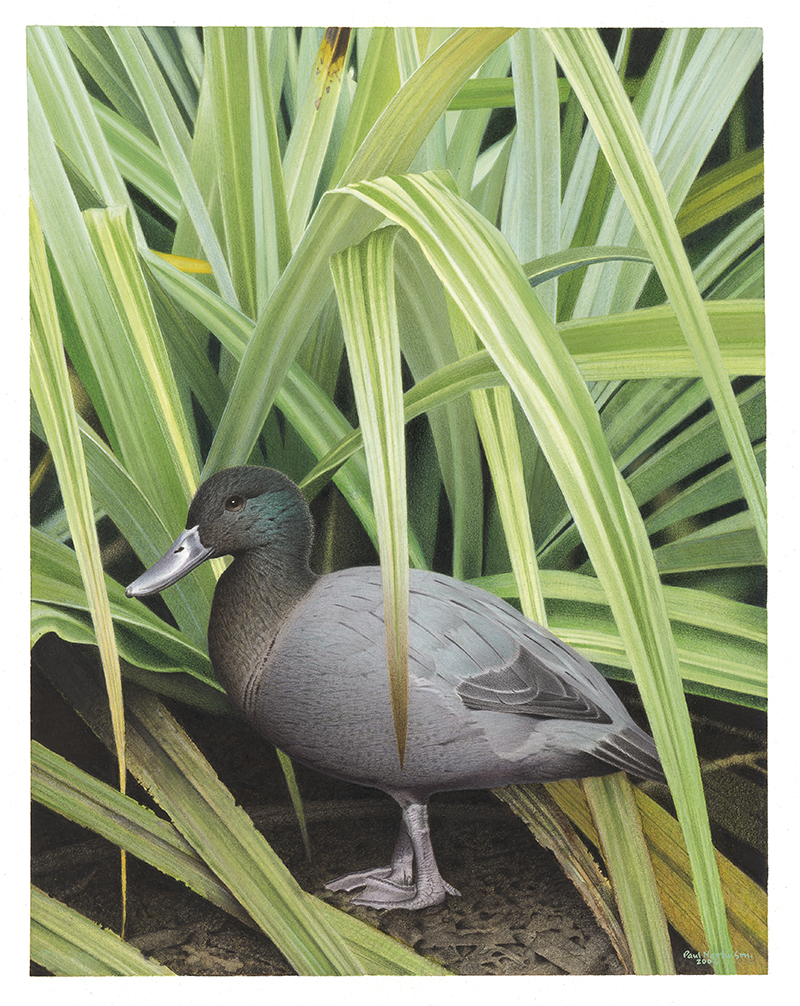 Above: Chatham Island Duck. Pachyanas chathamica. From the series: Extinct Birds of New Zealand., 2004, Masterton, by Paul Martinson. Purchased 2006. © Te Papa. CC BY-NC-ND 4.0. Te Papa (2006-0010-1/34)
References
Original scientific description:
Oliver, Walter R. B. (1955). New Zealand Birds, 2nd edition. Wellington: Reed.
Other references:
Callaghan, D. (2005). The shelducks and sheldgeese, pp. 395-398. In: Kear, J. (ed.) Ducks, Geese and Swans, Volume 1. Oxford, UK: Oxford University Press.
Gill, Brian and Martinson, Paul. (1991). New Zealand's extinct birds. New Zealand: Random Century.
Hume, Julian Pender and Walters, Michael. (2012). Extinct Birds. London: T & AD Poyser.
Livezey, Bradley C. (1997). A phylogenetic classification of waterfowl (Aves: Anseriformes), including selected fossil species. Annals of Carnegie Museum 66: 455-494.
Millener, P. R. (1999). The history of the Chatham Islands' bird fauna of the last 7000 years—A chronicle of change and extinction. Smithsonian Contributions to Paleobiology 89: 85-109.
Milne-Edwards, A. (1896). Sur les resemblanes qui existent entre la faune des les Mascareignes et celle de certaines iles de l'Océan Pacifique Austral. Annales des Sciences Naturelles - Zoologie et Paléontologie S8(2): 117-136.
Miskelly, Colin M., Forsdick, Natalie J., Gill, Brian J., Palma, Ricardo L., Rawlence, Nicolas J. and Tennyson, Alan J. D. (2022). Amendments to the 2010 Checklist of the birds of New Zealand. Ornithological Society of New Zealand Occasional Publication No. 2. Wellington: Ornithological Society of New Zealand.
Mitchell, Kieren J. et al. (2014). Ancient mitochondrial genome reveals unsuspected taxonomic affinity of the extinct Chatham duck (Pachyanas chathamica) and resolves divergence times for New Zealand and sub-Antarctic brown teals. Molecular Phylogenetics and Evolution 70: 420-428.
Robertson, H. A., Baird, K. A., Elliott, G. P., Hitchmough, R. A., McArthur, N. J., Makan, T. D., Miskelly, Colin M., O'Donnell, C. F. J., Sagar, P. M., Scofield, R. P., Taylor, G. A. and Michel, P. (2021). Conservation status of birds in Aotearoa New Zealand, 2021. New Zealand Threat Classification Series 36. Department of Conservation, Wellington. 43 pp.
Hugh Robertson, John Dowding, Graeme Elliott, Rod Hitchmough, Colin Miskelly, Colin O'Donnell, Ralph Powlesland, Paul Sagar, Paul Scofield, Graeme Taylor. (2013). Conservation status of New Zealand birds, 2012. New Zealand Threat Classification Series 4. 22 pp.
Salvador, Rodrigo B. et al. (2021). Feeding ecology analysis supports a marine diet in the extinct Chatham Island Duck (Anas chathamica). Emu. https://doi.org/10.1080/01584197.2021.1939719 [Abstract]
Watanabe, Junya. (2017). Quantitative discrimination of flightlessness in fossil Anatidae from skeletal proportions. The Auk 134(3): 672-695.
Williams, G. R. (1962). Extinction and the land and freshwater-inhabiting birds of New Zealand. Notornis 10(1): 15-32.
Williams, Murray. (2015a). Formidable carpal weaponry of Anas chathamica, Chatham Island's extinct flightless duck. Notornis 62: 113-120.
Williams, Murray. (2015b). Size and flight capability of Anas chathamica, an extinct duck from Chatham Island, New Zealand. Wildfowl 65: 75-99.
Worthy, Trevor H. and Holdaway, Richard N. (2002). The Lost World of the Moa. Bloomington: Indiana University Press.
Young, H. Glyn, Tonge, Simon J. and Hume, Julian Pender. (1996). Review of Holocene wildfowl extinctions. Wildfowl 47: 167-181.
http://www.osnz.org.nz/sites/osnz.org.nz/files/publications/2014%20Abstracts.pdf