Circus teauteensis Forbes, 1892:186
Large New Zealand harrier, Large N.Z. harrier, Forbes' harrier, Eyles(')(s) harrier
Taxonomy & Nomenclature
Conservation Status
Invalid (nomen nudum). But treated as valid by some authorities (e.g. Robertson et al., 2021).
Distribution
North Island, New Zealand
Biology & Ecology
Hypodigm
Media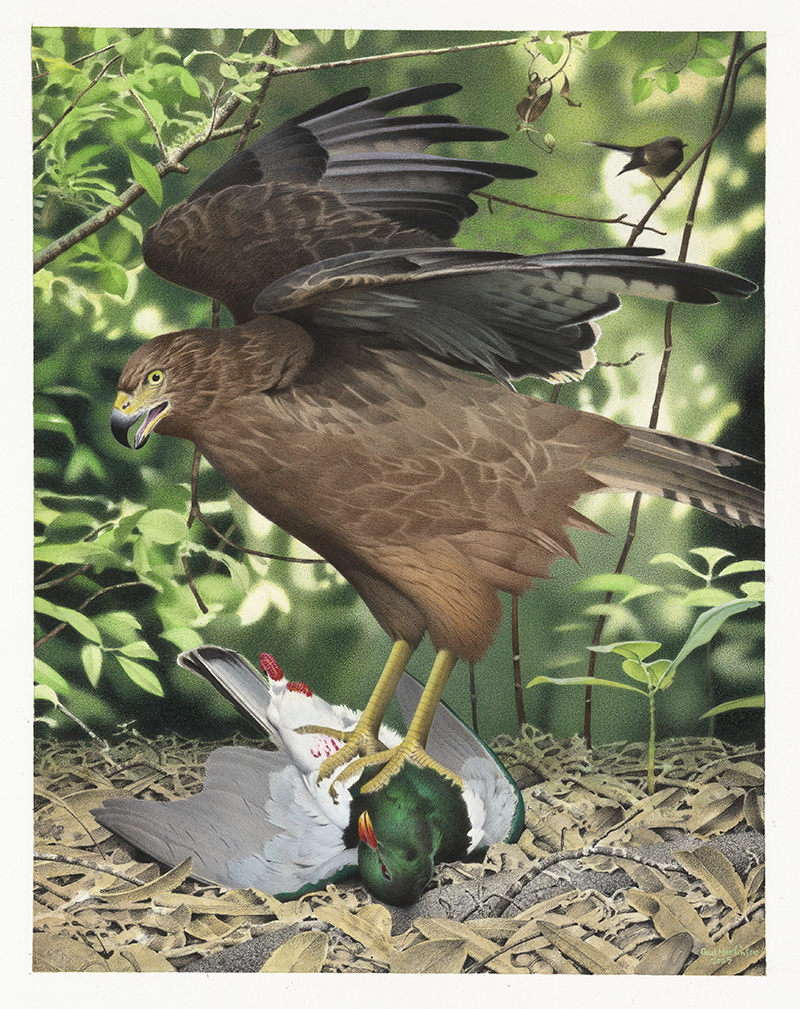 Above: Forbes' Harrier. Circus teauteensis. From the series: Extinct Birds of New Zealand., 2005, Masterton, by Paul Martinson. Purchased 2006. © Te Papa. CC BY-NC-ND 4.0. Te Papa (2006-0010-1/35)
References
Original scientific description:
Forbes, H. O. (1892). Preliminary Notice of Additions to the Extinct Avifauna of New Zealand. Transactions and proceedings of the New Zealand Institute 24: 185-189.

Other references:
Brian J. Gill, Ricardo Palma, Alan J. D. Tenyson, R. Paul Scofield, B. D. Bell, G. K. Chambers, D. G. Medway, Trevor H. Worthy. (2010). Checklist of the Birds of New Zealand, Norfolk and Macquarie Islands, and the Ross Dependency, Antarctica. Checklist Committee Ornithological Society of New Zealand, Te Papa Press in association with the Ornithological Society of New Zealand Inc. [p. 171]
DAWSON, E. W., 1958: Re-discoveries of the New Zealand sub-fossil birds named by H. O. Forbes. Ibis 100: 232-237.
Michael Knapp, Jessica E. Thomas, James Haile, Stefan Prost, Simon Y.W. Ho, Nicolas Dussex, Sophia Cameron-Christie, Olga Kardailsky, Ross Barnett, Michael Bunce, M. Thomas P. Gilbert, R. Paul Scofield. (2019). Mitogenomic evidence of close relationships between New Zealand's extinct giant raptors and small-sized Australian sister-taxa, Molecular Phylogenetics and Evolution. doi.org/10.1016/j.ympev.2019.01.026 [Abstract]
Robertson, H. A., Baird, K. A., Elliott, G. P., Hitchmough, R. A., McArthur, N. J., Makan, T. D., Miskelly, Colin M., O'Donnell, C. F. J., Sagar, P. M., Scofield, R. P., Taylor, G. A. and Michel, P. (2021). Conservation status of birds in Aotearoa New Zealand, 2021. New Zealand Threat Classification Series 36. Department of Conservation, Wellington. 43 pp.
Seersholm, Frederik V. et al. (2018). Subsistence practices, past biodiversity, and anthropogenic impacts revealed by New Zealand-wide ancient DNA survey. PNAS. https://doi.org/10.1073/pnas.1803573115 [Supplementary information]
Tennyson, Alan J. D. (2010). The origin and history of New Zealand's terrestrial vertebrates. New Zealand Journal of Ecology 34(1): 6-27.
Tennyson, Alan J. D. and Martinson, P. (2007). Extinct birds of New Zealand. Revised Edn. Wellington, Te Papa Press. v + 180 pp.
Williams, G. R. (1962). Extinction and the land and freshwater-inhabiting birds of New Zealand. Notornis 10(1): 15-32.
https://en.wikipedia.org/wiki/Eyles%27s_harrier
http://extinctanimals.proboards.com/thread/24011/circus-teauteensis-eyless-harrier
<< Back to the Accipitriformes (Eagles, Hawks, Kites, Secretarybirds, Ospreys, Old World Vultures etc.) database