Ecnomiohyla rabborum Mendelson, Savage, Griffith, Ross, Kubicki & Gagliardo, 2008
Rabb's fringe-limbed treefrog
Taxonomy & Nomenclature
Conservation Status
Extinct
Last record (wild): 2008
Last record (captivity): 26 September 2016
IUCN RedList status: Critically Endangered (Possibly Extinct)
Distribution
Panama
Biology & Ecology
Hypodigm
Media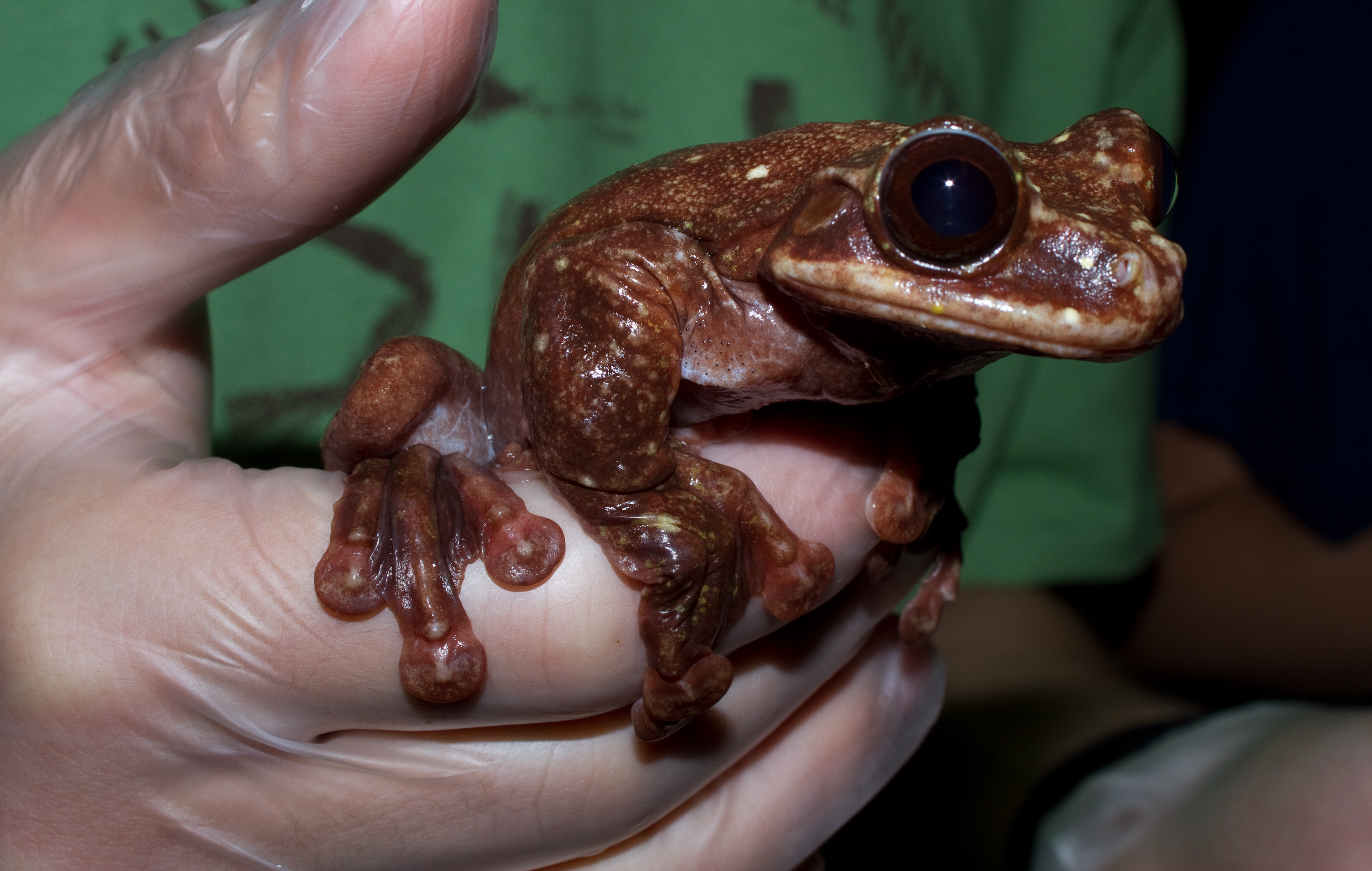 Above: "toughy", the world's last known individual in captivity. Photo by Brian Gratwicke in 2011, released under CCA 2.0 license. Source: Wikimedia Commons.
References
Original scientific description:
Mendelson III, J.R., Savage, J.M., Griffith, E., Ross, H., Kubicki, B. and Gagliardo, R. (2008). Spectacular new gliding species of Ecnomiohyla (Anura: Hylidae) from Central Panama. Journal of Herpetology 42(4): 750-759.
Other references:
ANAM. 2011. Plan de accion para la conservacion de los anfibios en Panama. Panama City: Autoridad Nacional del Ambiente.
AmphibiaWeb: Information on amphibian biology and conservation. [web application]. 2011. Berkeley, California: AmphibiaWeb. Available: http://amphibiaweb.org/. (Accessed: Apr 25, 2011).
Anonymous. (2015). [photograph and description of Ecnomiohyla rabborum]. Amphibian & Reptile Conservation 9(2): 1.
Batista, A., Hertz, A., Mebert, K., Koehler, G., Lotzkat, S., Ponce, M. and Vesely, M. 2014. Two new fringe-limbed frogs of the genus Ecnomiohyla (Anura: Hylidae) from Panama. Zootaxa, 3826(3): 449-474.
Faivovich, Julián, Haddad, Célio F. B., Garcia, Paulo C. O., Frost, Darrel R., Campbell, Jonathan A. and Wheeler, Ward C. (2005). Systematic review of the frog family Hylidae, with special reference to Hylinae: Phylogenetic analysis and taxonomic revision. Bulletin of the American Museum of Natural History 294: 1-240, 16 figures, 2 tables, 5 appendices.
Gratwicke, B., Ross, H., Batista, A., Chaves, G., Crawford, A.J., Lara, L.E., Estrada, A., Evans, M., Garelle, D., Guerrel, J., Hertz, A., Hughey, M., Jaramillo, C. A., Klocke, B., Mandica, M., Medina, D., Richards-Zawacki, C. L., Ryan, M. J., Sosa-Bartuano, A., Voyles, J., Walker, B., Woodhams, D.C. and Ibáñez, R. 2016. Evaluating the probability of avoiding disease-related extinctions of Panamanian amphibians through captive-breeding programs. Animal Conservation.
Hertz, A., Lotzkat, S. Carrizo, A., Ponce, M., Köhler, G. and Streit, B.. 2012. Field notes on findings of threatened amphibian species in the central mountain range of western Panama. Amphibian and Reptile Conservation 6(2): 9-30.
IUCN SSC Amphibian Specialist Group. (2019). Ecnomiohyla rabborum. The IUCN Red List of Threatened Species 2019: e.T85341796A54357363. https://dx.doi.org/10.2305/IUCN.UK.2019-1.RLTS.T85341796A54357363.en. Accessed on 06 July 2022.
Mendelson III, J. R. (2009). Discovering and naming new species of amphibians. Reptiles & Amphibians 16(2): 82-89.
Mendelson, J. R. (2011). Shifted baselines, forensic taxonomy, and Rabbs' fringe-limbed treefrog: The changing role of biologists in an era of amphibian declines and extinctions. Herpetological Review 42: 21-25.
Mendelson, J. R. & Angulo, A. (2009). Ecnomiohyla rabborum. In: IUCN 2012. IUCN Red List of Threatened Species. Version 2012.2. (http://www.iucnredlist.org). Downloaded on 15 February 2013.
http://en.wikipedia.org/wiki/Ecnomiohyla_rabborum
http://frogpodblog.blogspot.se/search/label/Ecnomiohyla
http://www.huffingtonpost.com/leilani-munter/the-loneliest-frog-in-the_b_5940426.html
https://blogs.scientificamerican.com/extinction-countdown/rabbs-tree-frog-extinct/
http://extinctanimals.proboards.com/thread/15111/rabbs-fringe-limbed-treefrog-rabborum